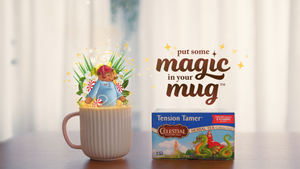 Taste the World
Celestial Seasonings© teas are an invitation to taste a world of flavor in every box. From relaxing herbal teas to energizing black teas and green teas to refreshing cold brew iced teas and everything in between, there's a Celestial blend that's perfect for any occasion.
"You've got to go out on a limb sometimes because that's where the fruit is."
- Will Rogers
Experience Celestial Seasonings
Our mission is to improve people's lives by providing delicious, beneficial products while maintaining our commitment to our customers, our values and our planet.
We blend our teas using the finest herbs, teas, spices and botanicals available, and we lovingly package them in engaging, thoughtful boxes that truly represent the goodness found inside.
Tour Information
Celestial Seasonings is excited to announce the reopening of our Boulder campus to visitors! 
On August 12th, we will resume our tour program and reopen the Tea Shop to Celestial fans from around the world. We look forward to seeing you all again and sharing the magic of Celestial Seasonings.
For more details on tours and tea samplings, visit our Tour Center page.